The First and Only
Unified Key Person Advocacy Platform
Coordinating and integrating all of your Key People into your Advocacy plan is very hard. KP Dashboard allows you to consolidate all of your Advocacy fronts into a single, easy-to-use interface that can be used by all of your team members across any platform. "I usually have spreadsheets, email, cell phone, the legislative app, and our organization directory open to get any of this done.
This has made everything so easy!"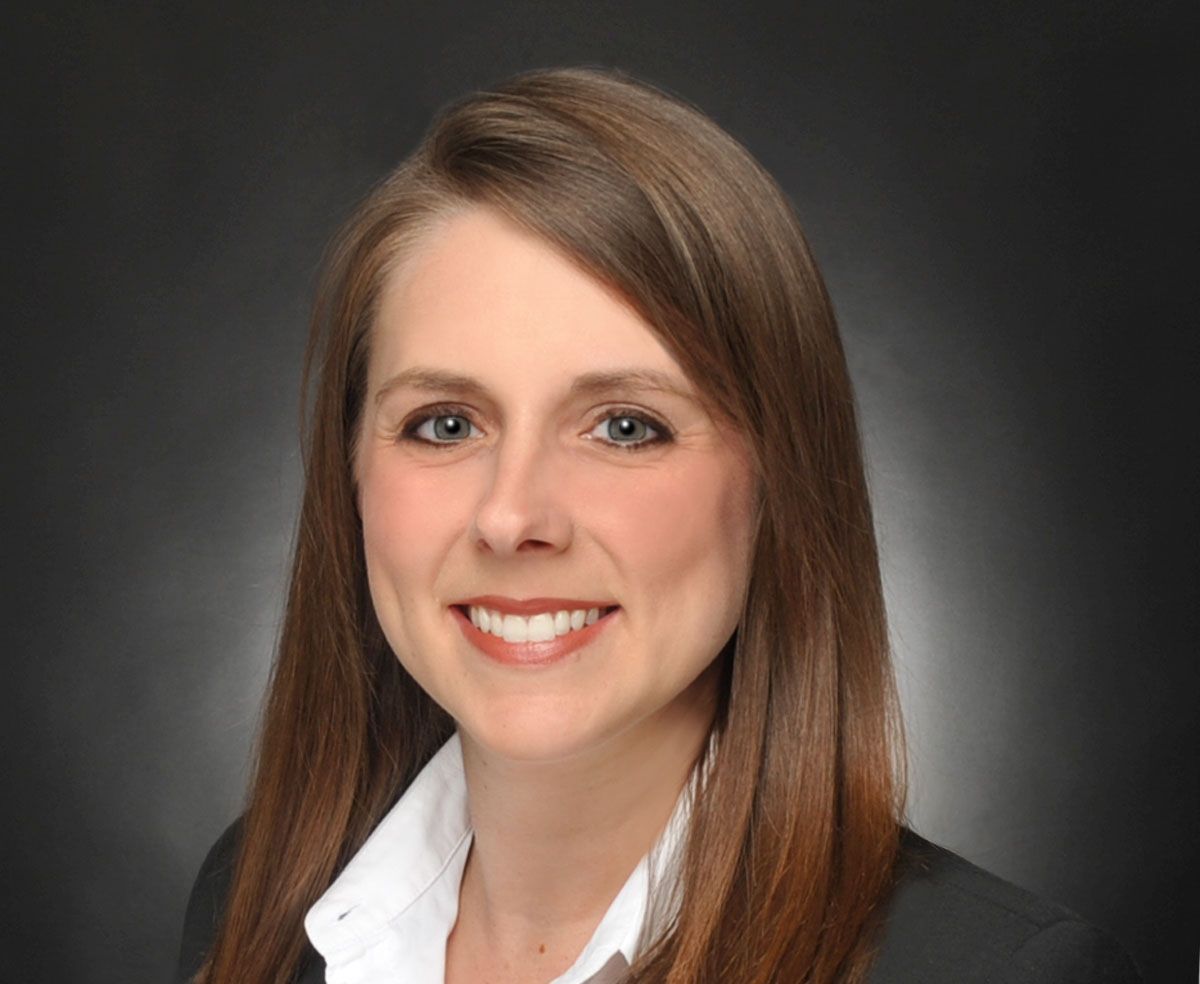 Dr. Jennifer Deakins
TOA, Grassroots Chair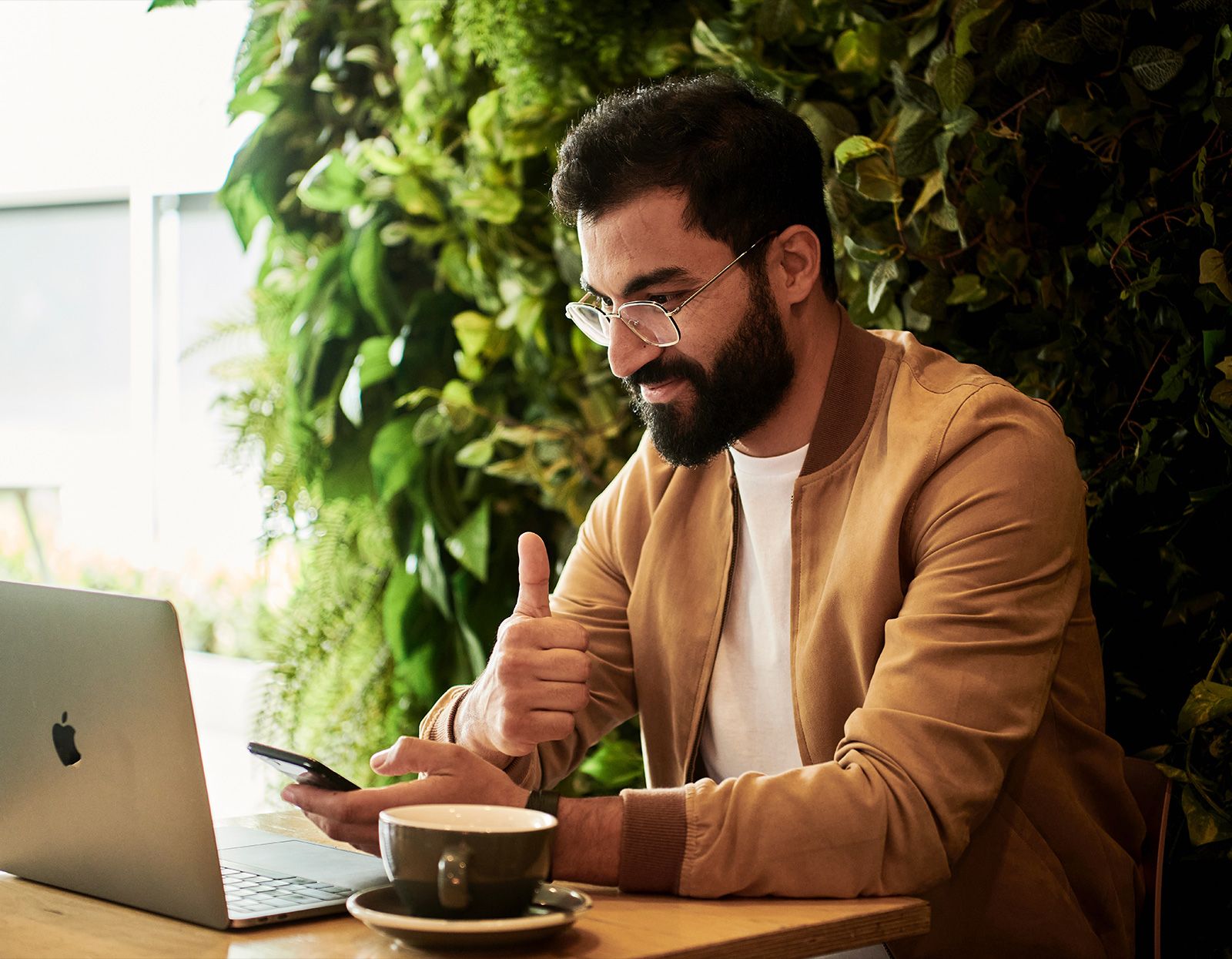 Empower Your Team
with KP Dashboard
Why KP Dashboard?
Unify all of your Advocacy onto one platform
Get all of your team on the same app
Centralize all messaging 
Keep a permanent Advocacy History
Track and plan PAC contributions
Integrated Bill Tracking (coming soon)
Create, send, and track Advocacy Messages
Much, much, more...
Advocacy-driven organizations choose KP Dashboard











A Unified Platform for Your Grassroots Advocacy
No other option has the set of tools that we have put together to stay on top of all aspects of your Advocacy.
Find and Assign
Your KPs
Import all of your Advocate profiles along with their Home and Work addresses
KPD will automatically assign accurate legislative districts upon import for every address
When needed, redistricting everything is one click away
Find and match Advocactes to Legislators creating a Key Person [KP]
Assign up to 5 KPs (KP1, KP2, etc)
Track relationship qualities for each KP/Legislator pair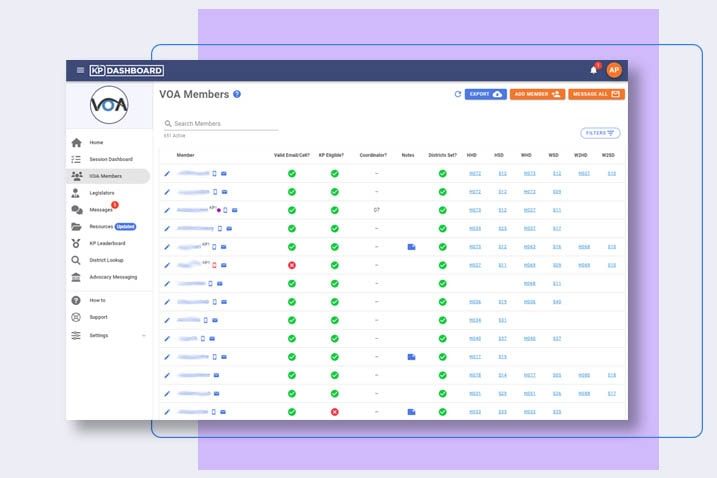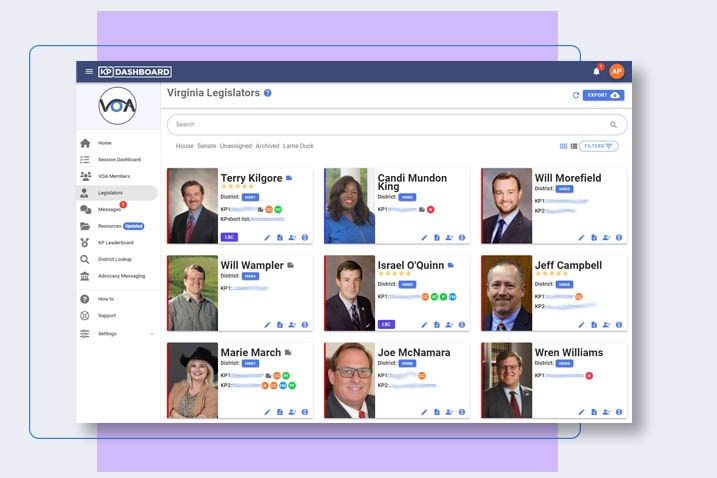 Legislator Database
See your Legislator images and other details easily
All vital data available (phone, address, social media, etc)
Filter by committee or subcommitee
Save notes or rate each by level of support
Track Votes, tasks performed by KPs, and Session Notes in one centralized Session Dashboard
Create personalized Advocacy Messages for your Advocates to review and send in 2-clicks
Bill Tracking
Coming soon!
Monitoring the legislative landscape for bills to your cause is a full time job.
Set keywords and phrases to monitor
Get instant notifications when key word or phrase matches
Search and select which bills to ignore, monitor, or track
Track your bills across entire app
See which legislators are sponsoring which bills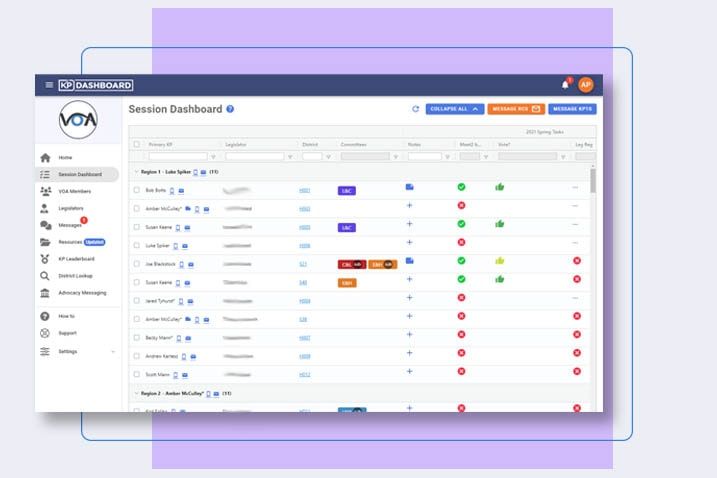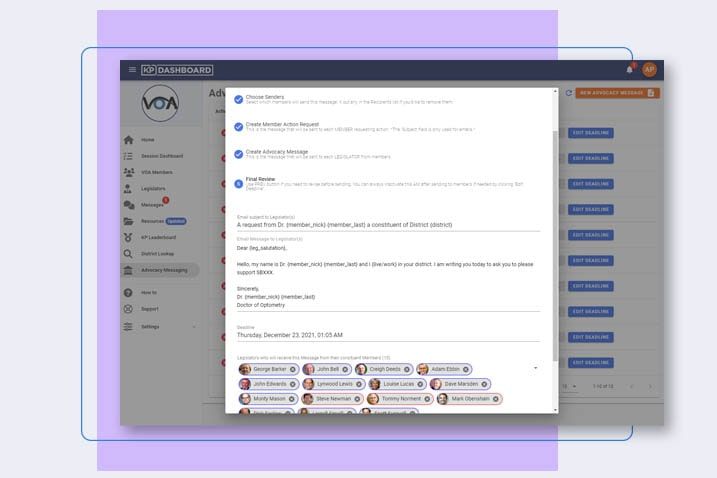 2-Click Advocacy
Create personalized messages for your KPs or Advocates to send to their Legislators in just a few clicks...
Choose the legislators who will receive the message
Create your message using our variable system
Invite your Advocates or just KPs to review, edit if they like, and send their message(s)
Track who has sent their messages
Track when legislators open their messages
Easily resend the invite to those who have yet to send their messages